Daily Air Emissions Report
New-Indy is continuously monitoring hydrogen sulfide in various locations both at the Catawba Mill and in surrounding neighborhoods. The report below shows hydrogen sulfide levels as reported by New Indy. The report is updated daily.
From May 13 – June 29, 2021, the Environmental Protection Agency (EPA) reported the results of hydrogen sulfide samplings from 10 different locations in York and Lancaster Counties, South Carolina, and Union County, North Carolina. In accordance with its issued Order, EPA discontinued its community monitoring program on June 30, 2021. The historical EPA monitoring results can be found HERE.
Following EPA's conclusion of such, New-Indy and SCDHEC each began collecting data from their own monitoring stations surrounding the New-Indy Catawba mill. New-Indy placed five of its monitoring stations in close proximity to the previous EPA monitors. In the interactive map above, you can see the location of each New Indy monitoring station and daily average values. The daily reports can be downloaded from the links below.
Statement from New-Indy:
"On Thursday, September 2nd, the hydrogen sulfide (H2S) monitor located adjacent to Holding Pond # 1 detected levels of H2S in excess of the 30-minute limit set forth in our consent order with the United States Environmental Protection Agency (EPA). We immediately investigated this event and determined that these levels were the likely result of an unexpected release of process liquid from the paper mill into the wastewater treatment system. Since the current H2S monitoring stations were first installed at the facility in May, we have learned that H2S levels detected at Monitoring Station 1 are frequently elevated when wind blows across Holding Pond # 1 from the North at a velocity greater than 8 miles per hour. Our engineers are currently developing a system to detect and prevent unexpected process water releases from entering the wastewater treatment system in the future. We expect to have that solution in place within the next 180 days. Other than this event, the wastewater treatment system continues to function well and improve each day.

As soon as we became aware of this issue, we immediately informed South Carolina Department of Health and Environmental Control and EPA of this occurrence and about our plans to address it. We continue to work with these agencies and to regularly post our monitoring results on this website."
FAQs
New-Indy Catawba LLC frequently asked questions.
What do the daily graphs from air monitoring stations show?
The New-Indy air monitors are stationary instruments that provide data that is averaged over 30-minute periods of time. The onsite instruments measure hydrogen sulfide (H2S) down to four-tenths parts per billion (0.4 ppb). The offsite instruments measure hydrogen sulfide (H2S) down to two-tenths parts per billion (0.20 ppb). The purpose of the stationary monitors is to provide quantitative information regarding H2S concentrations at New-Indy and in the community. The red line in the graphs is set at 70 ppb, which is the 14-day Minimum Risk Level (MRL) for H2S exposure developed by the Agency for Toxic Substances and Disease Registry (ATSDR). An MRL is defined as an estimate of daily exposure to a substance (H2S) that poses a minimal risk of adverse effects to humans over a specified duration of exposure (14 days).
Is the community's drinking water impacted from the New-Indy wastewater discharge?
No. The South Carolina Department of Health and Environmental Control (SC DHEC) routinely monitors public drinking water as well as the water quality of the rivers in South Carolina. The intake for drinking water systems supplying the neighborhoods in the area are UPSTREAM from the New-Indy discharge. The nearest downstream intake is 9 miles downriver. No issues related to New-Indy have been identified that are affecting drinking water quality. SC DHEC, in coordination with the Catawba Riverkeeper, conducted a special study on the river, looking at upstream and downstream locations relevant to New-Indy. The study found there were no significant impacts to the Catawba River from the New-Indy wastewater discharge. The report can be found at https://scdhec.gov/sites/default/files/media/document/CatawbaRiverStudy_Final.pdf.
What is the Community Engagement Group and what is its purpose?
The Community Engagement Group (CEG) provides a way for New-Indy and its neighbors to communicate directly, to form relationships with each other, and to work together to identify concerns and develop solutions. New-Indy Catawba created the CEG to improve dialogue with residents in the communities surrounding the facility and to build respect, trust and confidence with local citizens. We hope that this will help identify and resolve any concerns. New-Indy Catawba remains firmly committed to operating in a safe and sustainable manner, which will have a positive impact on the local community and South Carolina.
What does the foul condensate steam stripper do and why can't New-Indy just use it to reduce odor?
The stripper treats foul condensate (foul in this instance denoting "dirty" condensate discharge) generated during the manufacture of pulp to strip hydrogen sulfide (H2S) and other non-condensable gases (NCG's) from such condensate. The stripped H2S and NCG's are then burned in one of the combustion boilers at the mill. At present, the stripper is not sized to treat all foul condensate generated by the mill. New-Indy is investigating several modifications that it may make to the stripper and related equipment to increase the volume of foul condensate that the stripper can process.
Why is New-Indy removing fiber from the aeration stabilization pond (ASB) and how much are they going to remove? What will keep the fiber from building up again and where is the material being discarded?
The layer of fiber on the ASB was the result of initial startup operations following the conversion from bleached paper to unbleached containerboard. The fiber interfered with the proper operation of the ASB and made it difficult for mill personnel to conduct preventive maintenance and repairs. As a result, several aerators in the ASB became inoperable. The situation was exacerbated by the inclement weather in January and February which prevented timely access to the ASB for heavy equipment contractors to begin the solids removal process. Beginning on March 1, 2021, New-Indy began removing fiber from the surface of the ASB. This effort has continued using various methods, including using a barge to dredge and push fiber toward the edge of the ASB. Fiber that is removed is hauled to the No. 4 sludge pond where it is processed with other similar waste. These continuing remedial measures to remove fiber have allowed personnel to reach the aerators, conduct maintenance and repairs on those aerators and return them to service, which has improved performance of the ASB and reduced related air emissions and odors.
What is a stack test? Was it performed and what are the results of the tests?
A stack test, also referred to in EPA regulations as a performance or source test, measures the amount of a specific regulated pollutant, pollutants, or surrogates being emitted from an air emissions source, such as a stack or vent. Testing is required by a facility's Title V Air Permit on a periodic basis. Testing the air emissions from these devices (stacks/vents) requires highly sophisticated protocols and techniques to ensure that the air quality is accurately measured and characterized. All of the stack tests required by EPA and SC DHEC have been performed, and the sampling and testing results are being analyzed to ensure data quality. This data has been submitted to SC DHEC for review and evaluation. Once approved by SC DHEC, the data will be used to generate air dispersion models to evaluate any potential offsite impact from New-Indy's emissions.
Why are there fewer monitoring stations now that New-Indy is doing the monitoring?
A large amount of data has been generated by the EPA monitors, which has been helpful in pin-pointing locations where H2S levels might be elevated. As such, SC DHEC has concurred in the placement of New-Indy monitors in the areas most likely to experience elevated levels of H2S and at locations where permission was granted to install a monitor.
Why was New-Indy allowed to start up the plant without a foul condensate stripper?
The option to discharge the foul condensate to the wastewater treatment system instead of through the steam stripper is allowed under the federal air regulations (40 CFR Subpart S). SC DHEC approved the hard piping of the foul condensate in a revised construction permit issued on May 13, 2020. When the odor issue arose, New-Indy voluntarily decided (with SC DHEC approval) to restart the stripper on May 3, 2021.
Hydrogen Sulfide Q&A with Dr. Christopher Teaf
President & Director of Toxicology, Hazardous Substance & Waste Management Research, Inc.
1. What is hydrogen sulfide? Does hydrogen sulfide exist in nature or is it a "man-made" chemical? What are some possible sources of hydrogen sulfide?
Hydrogen sulfide (H2S), and related reduced sulfides, are produced when bacteria break down organic material such as plant or animal tissues where oxygen is limited (e.g., swamps, wetlands). It is not an unusual substance, and occurs in nature, as well as from some industrial sources. The World Health Organization (WHO) estimates that 75 to 250 million tons per year of H2S are released from all land and ocean sources, including natural sources, industrial petroleum processing, geothermal energy production, tanneries, and paper mills of various types.
2. How easy is it to smell hydrogen sulfide, compared to other odors? Why do people refer to "rotten eggs" as the odor associated with hydrogen sulfide?
H2S is easily detected by smell compared to other odors. While the reported detection threshold for H2S in air for most people is in the range of 1 to 10 parts per billion (ppb), a very wide range from 0.5 to 300 ppb often is reported. Rotten eggs produce hydrogen sulfide and other reduced sulfur compounds when they decompose.
3. How is hydrogen sulfide created? Is hydrogen sulfide always a gas? Does hydrogen sulfide exist in water? Should I be concerned that hydrogen sulfide may occur in household water supplies?
As described above, H2S is generated as a gas from natural and industrial processes such as paper mills under normal circumstances.  It dissolves in water, but its vapor pressure causes it to leave water quickly. There are no federal or state drinking water standards for H2S, and it is of health interest only in rare situations. If H2S taste or odor is present in water supplies, it is treated by filtration or oxidation. Occasionally, H2S is produced in homes by sulfate bacteria in electric hot water heaters.  H2S is also formed as a natural product in our bodies, for example "morning breath" and intestinal gas.
4. Does hydrogen sulfide have any beneficial uses?
H2S occurs naturally, is used industrially to produce sulfuric acid and elemental sulfur and can be used to produce "heavy water" for nuclear plants. It has shown protective and beneficial characteristics in Alzheimer's models and some other studies.
5. At what level is hydrogen sulfide dangerous to humans and pets? Does prolonged exposure to low H2S concentrations cause health issues for humans and pets? Is intermittent or occasional exposure to small to intermediate levels of hydrogen sulfide unhealthy? Are the elderly, the young and people with compromised immune systems more likely to suffer adverse health effects from either prolonged or intermittent exposure to hydrogen sulfide?
H2S typically is regulated as an odor, not a health concern. The Agency for Toxic Substances and Disease Registry (ATSDR) set a Minimal Risk Level (MRL) for H2S at 70 ppb to protect sensitive portions of our population, such as the elderly or young.  H2S air levels below 70 ppb may be detectable by smell, but are not harmful to people or pets, even if exposures are common, or if brief, infrequent exceedances occur.
6. What are the health effects associated with hydrogen sulfide exposure? Do the health effects end after exposure ceases?
Exposure to concentrations of hydrogen sulfide greater than the MRL of 70 ppb in air for periods of time exceeding several weeks may cause transient and mild irritation of eyes, nose, and throat, which are reversible when exposure ceases. Such effects are irritated by the annoyance related to H2S odor, which can initiate or intensify the effects. Individuals who are unable to smell H2S do not experience such responses.
Short-term exposures to H2S at concentrations of parts per million or higher (1 ppm = 1,000 ppb) have been reported to cause effects including nausea, headaches, disturbed equilibrium, neurobehavioral changes, olfactory paralysis, loss of consciousness and tremors. While some persistent effects have been reported in workers exposed to H2S at high levels for long periods, effects from environmental exposures are reversible.
7. What should I do if I smell hydrogen sulfide inside my home? Outside my home?
If you are outdoors when you smell H2S, you may wish to go indoors temporarily to avoid the smell. Because it is a relatively common airborne substance, and often is associated with sewage treatment plants, sewage lift stations, decomposing vegetable matter, landfills and some industrial activities, it often is detectable near these facilities. If smells are localized indoors, ventilating the home typically is beneficial, assuming that it is not a continuing source in the home itself (e.g., hot water heater or water supply).
8. Does the federal or state government regulate hydrogen sulfide? Is hydrogen sulfide a pollutant under state or federal law? Other than workplace limits imposed by the Occupational Safety and Health Administration (OSHA), has the state or federal government-imposed exposure limits for hydrogen sulfide? What are the exposure guidelines for hydrogen sulfide?
The workplace OSHA concentration for H2S is 20,000 ppb (20 ppm), based on a 15-minute time-weighted average. Other regulatory agencies have developed guidelines for H2S, including in occupational and environmental circumstances. There are no federal standards for air (other than for petroleum refining facilities), but protective guidelines have been recommended at the MRL of 70 ppb, which is set as the safe level for exposure periods less than or equal to 14 days.
9. Is hydrogen sulfide likely to affect me or my family? If I smell "rotten eggs" am I in danger? Do I need to wear personal protective equipment if I encounter hydrogen sulfide?
In situations where people can move around freely, H2S is almost never a health issue, though the odor of H2S is easily detected. Protective equipment is not necessary except for some enclosed industrial operations.
10. Each year, how many people in the United States die from exposure to hydrogen sulfide? How many people in the U.S. each year suffer adverse health effects from exposure to hydrogen sulfide? Where do those situations typically happen?
The U.S. Bureau of Labor Statistics estimated fewer than 50 fatalities during the period from 2011 to 2017, approximately 8 per year. The cases typically are attributed to industrial accidents or entry into confined spaces containing high levels of H2S.
11. What other resources are available if I would like additional information on hydrogen sulfide?
There are many sources of information regarding H2S, ranging from simple and straightforward to highly detailed and complex. These include:
ATSDR (Agency for Toxic Substances & Disease Registry). 2016a. Toxicological Profile for Hydrogen Sulfide and Carbonyl Sulfide. U.S. Department of Health and Human Services. Atlanta, GA.
ATSDR (Agency for Toxic Substances & Disease Registry). 2016b. Tox Guide for Hydrogen Sulfide (H2S). U.S. Department of Health and Human Services, Public Health Service. Atlanta, GA.
ATSDR (Agency for Toxic Substances & Disease Registry). 2016c. Public health Statement: Hydrogen Sulfide (H2S). U.S. Department of Health and Human Services, Public Health Service. Atlanta, GA.
California ARB (California Air Resources Board). 2021. Hydrogen Sulfide & Health. 
MN DOH (Minnesota Department of Health). 2019. Hydrogen Sulfide and Sulfur Bacteria in Well Water: Well Management Program. August 2019.

2021 Mill Operations Timeline
Prior to 2020, the New-Indy Catawba mill produced mostly white paper, which was used by customers to print magazines, catalogs and similar materials. Last year, New-Indy converted portions of the mill to manufacture unbleached containerboard, which is used by customers to produce various packaging products. The mill was completely offline from May to September 2020 during the conversion process. The first stage of restarting production began in December and by February 1, 2021, the mill had restored operations. On February 8, 2021, New-Indy Catawba LLC sent DHEC a letter notifying it that New-Indy Catawba began operations of all equipment except the No. 2 Paper Machine within 15 days prior to that letter.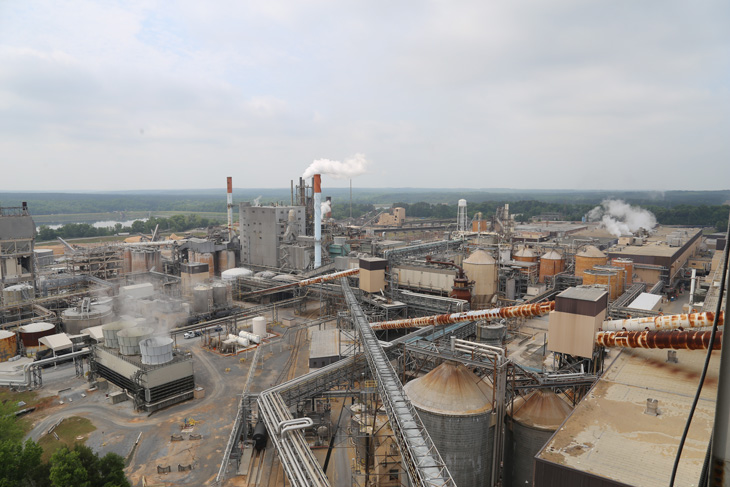 Full mill odor survey conducted by external consultant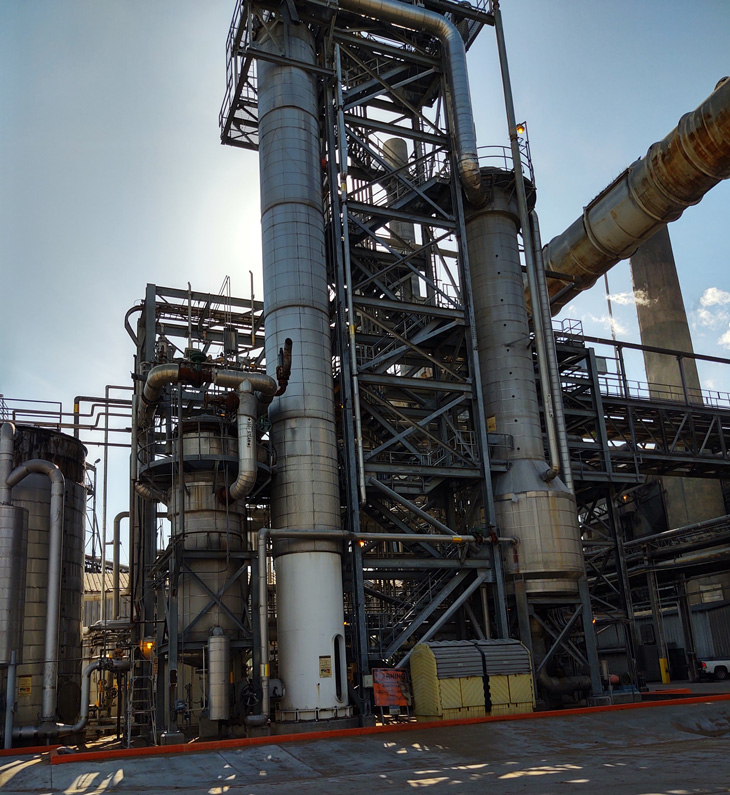 Brought foul condensate steam stripper back into service
Optimized calcium nitrate supplementation (split feed)

Enhanced surface solids removal in ASB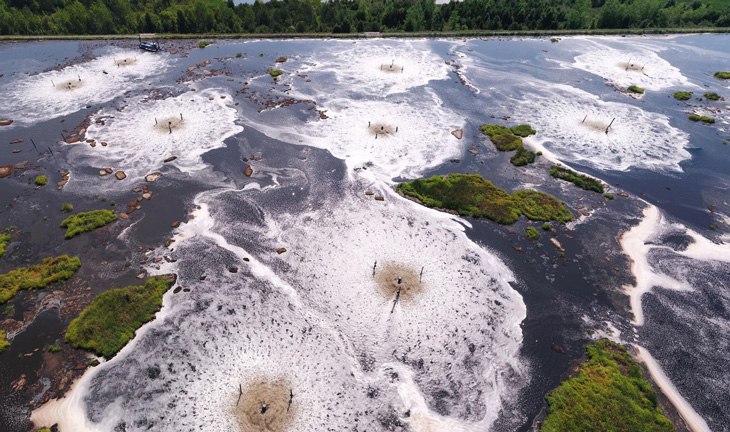 Continued surface solids removal from ASB
Added ferric chloride to Holding Pond 1 influent ditch
Initiated hydrogen peroxide addition to Holding Pond 1
Weeks of:
July 12 & July 19
Continued surface solids removal and aerator repairs
Weeks of: July 12 & July 19
Abbreviation Key
| Abbreviation | Meaning | Functional Description |
| --- | --- | --- |
| ASB | Aeration Stabilization Basin | Biological stabilization of wastewater organics |
| EPA | Environmental Protection Agency | US environmental agency |
| H2S | Hydrogen Sulfide | Chemical targeted for ambient air monitoring |
| PAB | Post Aeration Basin | Final aeration polishing basin prior to discharge to Catawba River |
| PM3 | Paper Machine 3 | Production equipment where linerboard is made from pulp slurry |
| SCDHEC | South Carolina Department of Health & Environmental Control | South Carolina state environmental agency |
Notices
New-Indy will notify the public about operational activity that may result in changes in emissions from the Catawba Mill. Any such notices will be posted in this section.
New-Indy is a joint venture between The Kraft Group and Schwarz Partners. The company name is derived from being the Newest Independent manufacturer and supplier of recycled containerboard in the corrugated box industry. With nearly 2,000 employees from the Carolinas to California, we strive to be the supplier of choice for packaged products.
Number of local employees: 450
Property size: 1,800 acres
Facility size: 940,000 sq. ft.
Annual Economic Impact
($Million)
| | |
| --- | --- |
| Payroll and benefits | 62 |
| Other operating costs | 100 |
| Cost of wood and recycled fiber | 115 |
| Energy purchase | 25 |
| Taxes | 8 |
| TOTAL impact | $310 million |

New-Indy is committed to being a responsible corporate citizen and promoting economic vitality throughout the region.
New-Indy purchases wood from 110 different regional suppliers: 85% in South Carolina, 14% in North Carolina & 1% in Georgia
Major operating costs:

Maintenance and repairs – $40 million
Supplies – $20 million
Outside services – $20 million
We are the largest single customer of Duke Energy and York County Natural Gas.
Taxes paid annually:

Real property – $300,000
Sales & Use – $700,000
Personal property – $7 million
Supporting Sustainability
The Catawba Mill:
Paper and Packaging manufacturing is one of the most sustainable industries we have in the United States today. New-Indy takes pride in being part of an industry that acts as stewards of our planet and the forests that occupy it.
New-Indy is ISO-certified in quality management and environmental management. ISO (International Organization for Standardization) is a global certification process for a variety of organizations and systems.
The mill sources wood fiber and maintains a chain of custody and controlled wood certificates under the Sustainable Forestry Initiative (SFI).
We derive 73% of the energy used from renewable sources, including hydroelectric power and an on-site cogeneration facility.
New-Indy helped develop and teach the South Carolina Best Forest Management Practices to landowners and suppliers who provide us wood. These practices set and monitor harvesting standards to protect forest water quality and ensure the sustainability of logging practices.
New-Indy generates 44 million watts of electricity on-site from carbon-neutral biomass.
New-Indy Has won numerous industry awards, including South Carolina Manufacturer of the Year and Top 10 Best North American Plants. Established in 1990, the IndustryWeek Best Plants program annually recognizes plants that are on the leading edge of efforts to increase competitiveness, enhance customer satisfaction and create rewarding work environments.
Community Support
Since 2019
New-Indy is committed to being a responsible member of the community. As a proud member of several local organizations, New-Indy also sponsors local events and donates to many local institutions.
Local Associations / Memberships
York County Chamber of Commerce
South Carolina Chamber of Commerce
South Carolina Manufacturers Association
South Carolina Energy Users
South Carolina Forestry Association
Community Donations / Sponsorships
Little Free Libraries (Cherry Park, Riverwalk, Manchester Park, The White Home, Lesslie Elementary, Olde Point Elementary, Northside School of Arts, Richmond Drive Elementary, Camp Canaan)
Rock Hill Schools Education Foundation
A local partner with elementary (Leslie, Belleview, Independence), middle (Sullivan) and high schools (Rock Hill)
Christmasville
Come See Me Festival
Lancaster Children's Home
The Lancaster School District
Habitat for Humanity
Lancaster Chamber of Commerce
Critical Needs
Covid PPE for partner schools
Covid vaccine clinic volunteers
Covid vaccine clinic donation
Special Olympics EE support
Partner elementary school benevolence fund donations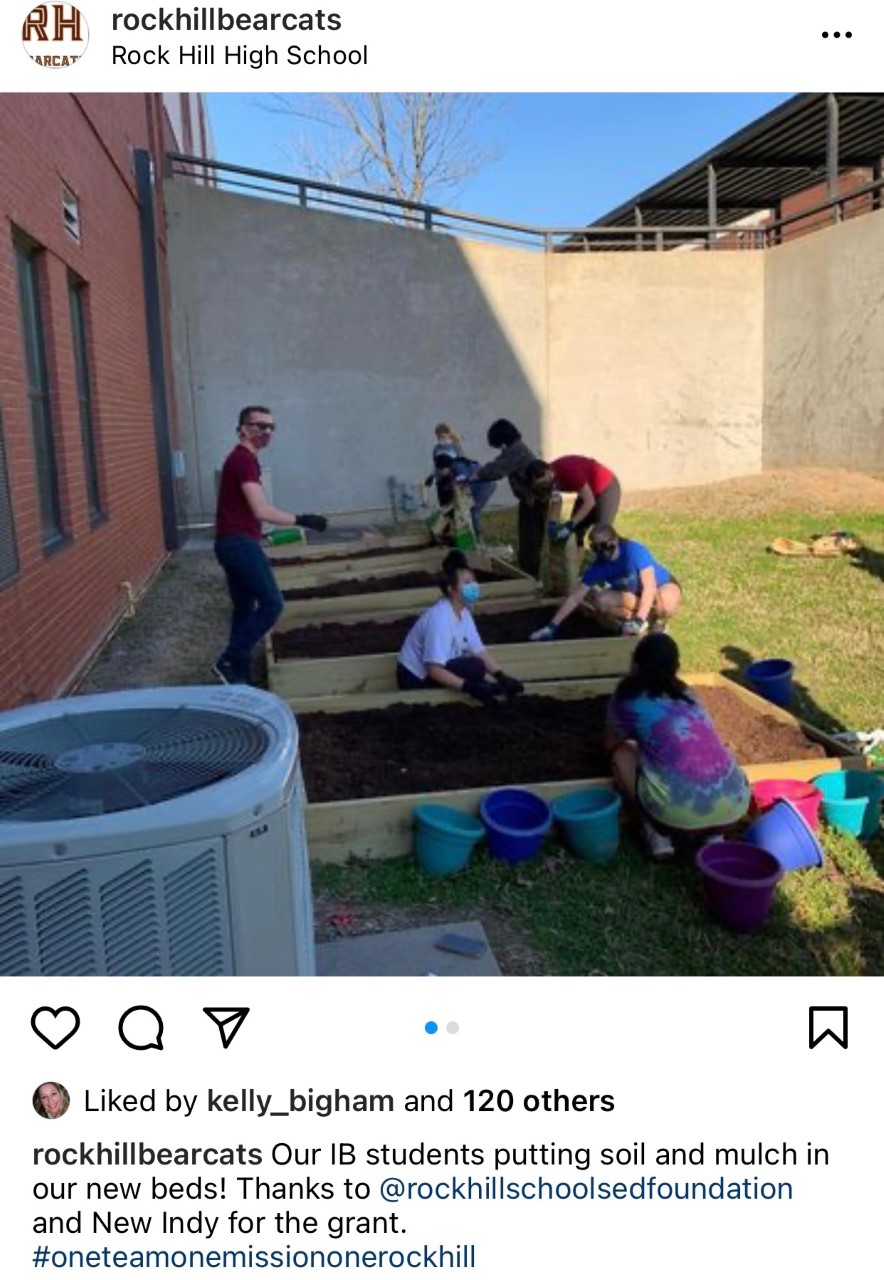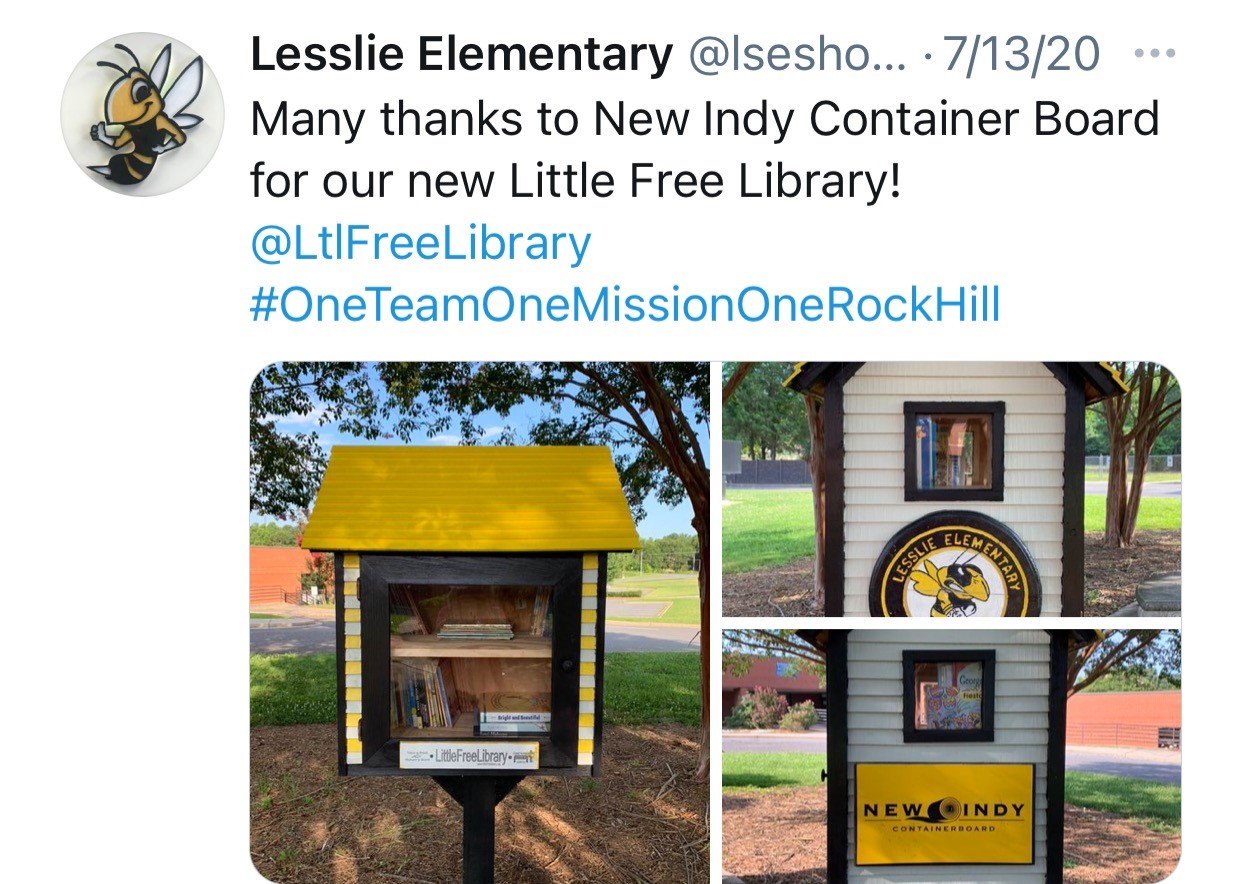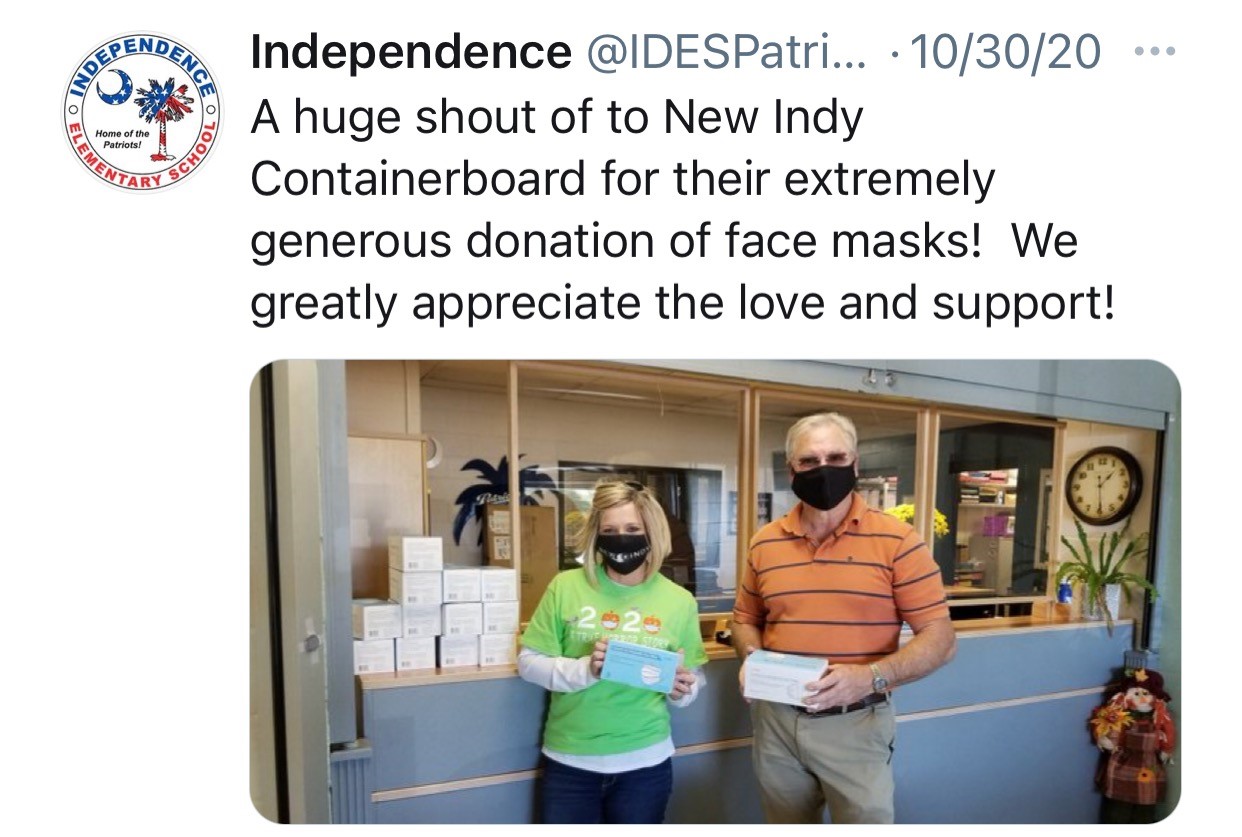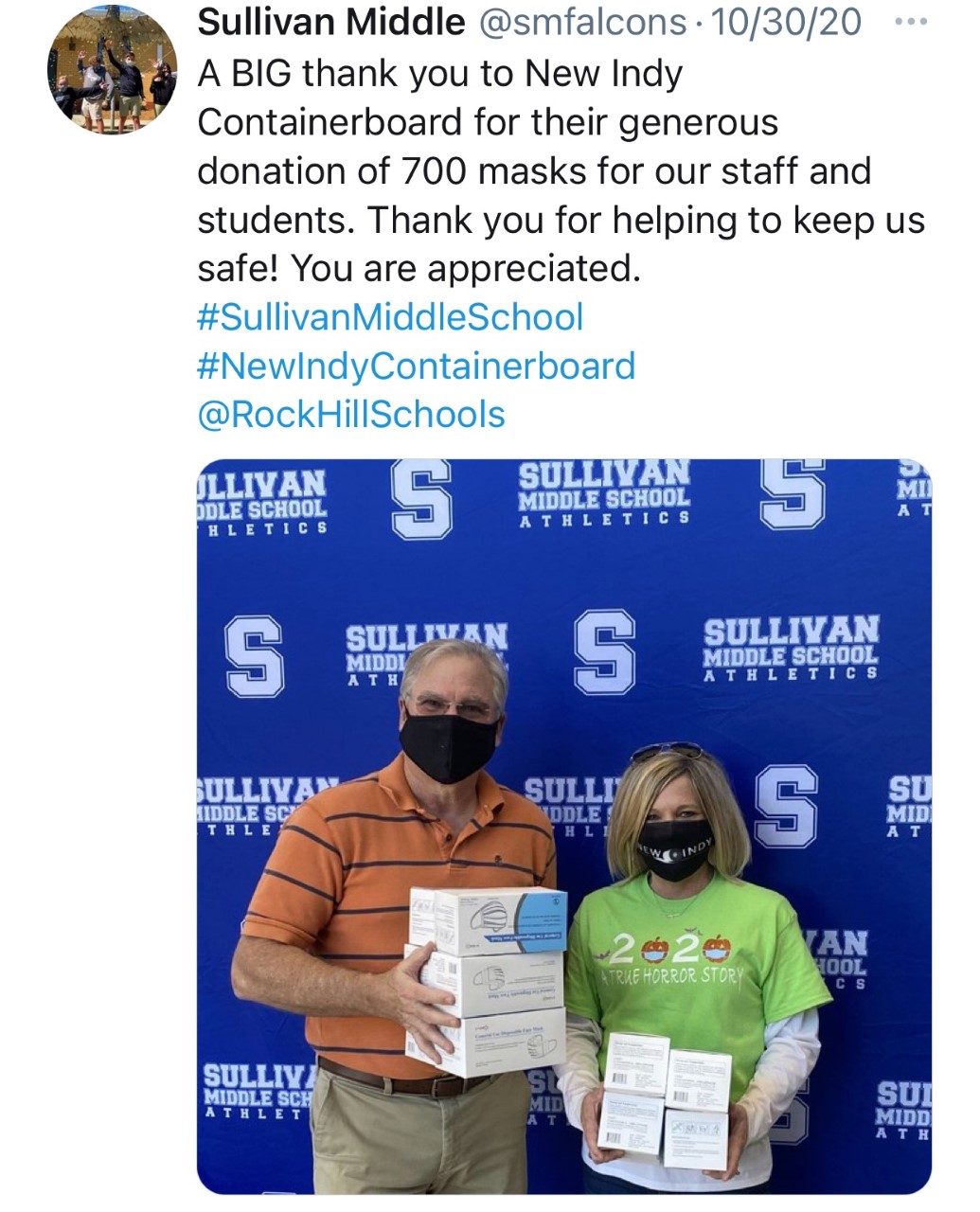 Contact Us
New-Indy has a dedicated phone line for reporting concerns or feedback about our operations. Please call 803.670.2001 and make sure to tell us your name, phone number and the reason for your outreach. If you would like to report an odor observation, please fill out the submission form below. Complete information will enable us to evaluate the issue thoroughly and follow up as needed.